Fishing
---
If you enjoy fishing those high mountain lakes, llamas make it even better. After backpacking into the mountains, have you ever been frustrated at fish rising just beyond casting range? Did you ever wish you had a pair of waders, or even yet, a float tube? Make it all possible by packing with llamas.
Llamas can easily pack float tubes, inflated or not. For quick day trips to adjacent lakes, a llama will pack two inflated float tubes, one on each side of the pack saddle. This eliminates time spent deflating and re-inflating tubes, so you can spend more time on the water. Fly and spinning rods can be placed in tubes and tied on the top of the panniers. Float tube fins and tackle boxes/vests are easily packed in the panniers.

Although simple meals taste great on fishing trips to the backcountry, why not plan on something more gourmet? Usually there will be plenty of time for cooking and lots of room for frozen meats, fresh veggies, and desserts. Coolers packed with frozen and fresh foods, and cold drinks make meals as gourmet as you choose. For a trip featuring awesome scenery, peaceful solitude and good fishing, a llama trek into a scenic mountain lake can't be beat.

---
Hunting
---

For those of us that enjoy big game hunting, llamas open up many possibilities. Bow hunters and rifle hunters are finding llamas to be the perfect way to access some great country. Have you ever found a great looking deep, dark forested canyon that you knew held a big old bull elk and then shuddered at the ordeal of backpacking it back to the pickup? Since we've been using llamas on our hunting trips we no longer have to worry about where we end up harvesting game. Packing it out is a great part of the hunting trip! Llamas are sure-footed and can go almost anywhere a human can go without using their hands. Over the years we've packed out numerous deer, elk and bear. To llamas, carrying out game is just another packing load.If you hunt in mountainous areas that are closed to motorized travel, packing with llamas opens up a lot of country.

Many horse and mule packers will typically head in at least 10 miles, after going to all the trouble getting to the trailhead and loading up with tons of gear. Whereas, car-camper types, and even backpack hunters, will generally not hunt more than 2 or 3 miles from the road. This leaves a nice buffer area that seldom gets hunted. Using pack llamas, we can take advantage of this area and usually see few other hunters. During hunting seasons, we'll put wide fluorescent orange "don't-shoot-me" neck bands on the llamas and tie big strips of 6-inch wide flagging around their picket areas.

​Hunters and hikers find that llamas on the trail rarely spook at anything. Hides, antlers, noisy plastic bags, or awkward bulky items tied to the panniers aren't a big problem for llamas even when gear bumps on trees or slaps against their legs.

---
---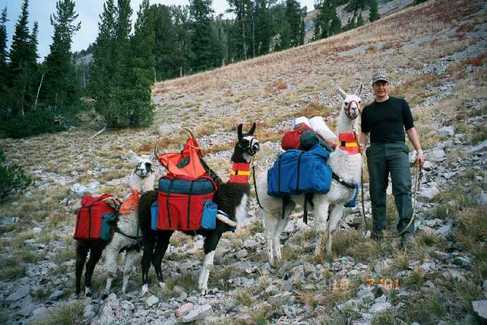 ---
For a featured hunting article of Gary packing with llamas

check out the August/September 2000 issue of the

Eastmans Hunting Journal

, or click here to

Read It Now

. Make your big game hunting adventure even more memorable by hunting with llamas!

To add even more adventure to your llama trek

, try using a

jet boat shuttle

! We've accessed some really remote areas by loading the llamas on jet boats. They walk right into covered and open bow boats and with little hesitation. It is just a big stock trailer with a great view!