Other Information
---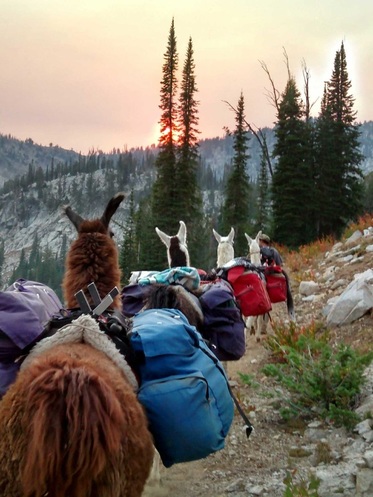 We typically
have about 20 pack llamas, with several others in-training to replace older llamas near retirement. Usually each llama will get out on 2 to 3 extended trips a month, from April through November. The calm nature of our experienced pack llamas makes them safe to handle for hikers of all ages. They use good sense when encountering obstacles and rarely spook or bolt. Dogs will typically not bother them if the dogs are not aggressive. If used for hunting, our llamas are very calm when packing out big game, and usually not bothered by any type of load.
Our pack llamas
weigh between 300 to 350 pounds, which makes them very manageable and not intimidating to first-time packers. Folks do not need mighty muscles to handle packing chores because llamas are limited to loads that seldom exceed 70 to 80 pounds. The smaller size of llamas is definitely an advantage in getting to the trailhead. Two llamas can be easily transported in a small pickup with a stock rack. Most folks choose to use a small horse trailer.
In camp, llamas require minimal care
. Under average backcountry conditions they require little supplemental feed, usually no more than a pound per day of grain mixture (llama granola). Offering this, along with fresh water every other day, and moving their picket sites once a day will keep them content.
Yes, llamas do spit
, but rarely at their human companions. Occasionally someone does get caught in the cross-fire from interactions between llamas! Nothing to be concerned about here.
A llamas padded feet,
unobtrusive dung, and light browsing habits have a lower impact on the land than equine pack stock. Their inconspicuous dung habits are virtually odorless, resembling those of elk and deer. As browsers they alternate between eating some leaves with some grass. With proper backcountry handling, llamas leave no more trace of their visit to the wilderness than native deer and elk.
​We use quality llama packs
manufactured in Boise, Idaho, that incorporate a heavy aluminum saw-buck frame with a detachable saddle pad. Each pannier has a large main compartment, and two large end pockets. Give us a holler if you'd like to learn more about our pack equipment or how to get a set.
---
---
Good Reads
For great reading
on feeding, packing, hunting, fishing, and care of llamas, we highly recommend the book titled "Llamas are the Ultimate" by Doyle Markham. It is full of useful information and has lots of great photos.
Equipment Notes
---
TAKE GOOD EQUIPMENT: A big part of being comfortable in the backcountry depends upon staying warm and dry, and taking care of your feet. Having the right equipment is the key to making this possible. Don't economize on the gear you obtain for a wilderness outing. If you bring poor equipment you are liable to wish you had gone to the expense of getting something better when there is nothing you can do about it. Poor gear is an inconvenience at best and, possibly, a hazard.

PACK LIGHT: Many inexperienced backcountry travelers tend to bring too much equipment. Packing with llamas allows you to bring more than if you were backpacking; taking some of those luxuries you would have left behind if you had to carry it all. Still, it is important to give thought to eliminating unnecessary weight. Lightweight backpacking gear usually works best. Make every effort to limit yourself to less than 60 pounds of gear and food on the llamas, sleeping bag and tent included. Most find this target weight is achievable if they carefully weed out unnecessary equipment. You'll find the trip much more enjoyabe if you and the llamas are not packed to-the-max everywhere you go.

SLEEPING AND SHELTER: A warm sleeping bag, insulating pad and a good water-tight tent are essential to your comfort and safety.

​STAYING WARM AND DRY: Mountain weather in summer should be mild and dry, but cold, wet conditions can prevail in any month and weather conditions can change quickly. In the wilderness you MUST be prepared for the worst that nature may throw at you. This means warm clothing and rain gear that will keep you dry.
To stay dry, a hooded poncho is adequate, but a waterproof nylon or Gortex-type parka and pants are more effective. Avoid cheap plastic raingear. It invariably fails when you need it most. Bring clothing that will keep you comfortable at temperatures down to freezing. We recommend multiple layers of lightweight synthetics or wool to give flexibility over a variety of conditions.